BLACK FRIDAY SALE: TAKE 15% OFF ALL WEEK w/CODE: BLKFRIDAY15
Cell Phone Lanyards

Custom Lanyards For Your Cell Phones
Wholesale cell phone lanyards are unique promotional products for you upcoming advertising events. Our different styles can be personalized with your logo design and brand name, in time for giveaways and the like. Present your clients and employees with durable and affordable neck candy that will make the transport of their devices easier. Accessible and secure, our custom cell phone lanyards ensure that your smart phones stay always at hand reach, but give you flexibility to move around and complete other tasks. DiscountMugs brings your power to multitask; order with us now and take advantage of everyday cheap prices you're sure to love.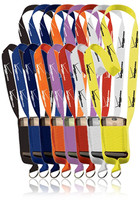 Wholesale Lanyards For Schools & Businesses
Shop our different styles of cell phone lanyards and order in time for your promotional events. Customizable with your logo and graphics, our advertising tools are great for those looking to get their business noticed. Stock up your representatives with cheap lanyards at your upcoming tradeshows, conventions, corporate meetings and the like, and establish a uniformed image of your company. Make your agents more reachable to the crowds and provide them with tools that make them more easily recognizable. Our custom lanyards are also ideal giveaway items. Present your target audience with unique and functional items that they can implement into their daily lives thus keeping your image current and fresh among your customers. Whether for businesses or schools, these neck lanyards for cell phone are just what you need.
Customizing your personalized cell phone lanyards for cell phones is easy when you use out online tools. Our D-lab interface is equipped with helpful tools that make your experience easy and hassle free. You only need download the template unique to your items of choice and place your artwork within the imprint are of the design. Upload to our site when complete, or select from our gallery of predesigned clipart and fonts should you not have a logo of your own. Follow the easy steps towards the completion of your order of custom printed lanyards in wholesale, and contact our customer service team should you have questions regarding the quality of our items; a free artwork proof of your items may be submitted upon request. Order today and take advantage of our cheap prices.