Customized Mouse Pads & Wholesale Mousepads With Calculators

Bulk Wholesale Mouse Pads With Calculators & Free Shipping
Get customized mouse pads with calculators in bulk at cheap prices. These wholesale mousepads come with calculators and can be personalized and custom printed with your logos for all promotional use. Get free setup and free shipping.
10%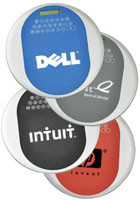 Personalized Mousepads Custom Printed With Logos
Our customized mouse pads with calculators are highly popular because of their dual function. They come in different sizes and you can get them round or rectangular. They provide convenience, especially at a work environment. Companies can get our wholesale mouse pads with calculators to use as promotional giveaway items. Give them out at trade shows, conventions, conferences and other promotional events. Your customers and clients will definitely love using their new personalized mouse pads with calculators at work, school or even at home; all while promoting your business and services. Using personalized promotional products is one of the most cost-effective ways to advertise. These customized mouse pads with calculators are also ideal for school functions and fundraisers. For other unique options, check out our full color rectangular printed mouse pads, our full color custom round mouse pads and our custom leather mouse pads.
Customizing your new wholesale mousepads with calculators is fast and easy using our online tools and D-Lab system. Select the style of custom mouse pads you want and upload your artwork or logo onto our design lab. You can pick an image from our clipart gallery as well. You can then choose the colors for your font and graphics, depending on the design. If you have any doubts about how your personalized mouse pads will turn out, simply request an artwork proof from us for free. You can also contact our art specialists or customer service department with any questions you have and they will help you with any step of the customization process you may need assistance with. We make sure our customers are completely happy and satisfied with their purchase. Order your wholesale mousepads with us today and receive free shipping plus our 110% price match guarantee.