Enjoy the Savings! We Have the Lowest Prices Guaranteed on All Your Promos!
8 Inch Round Plates


Personalized Commemorative Plates With Photo & Texts
50%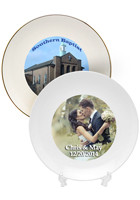 8 Inch Round Plates
Our 8 inch round custom commemorative plates are some of our best sellers. These printed commemorative platesare just the right size to imprint and customize anything you like on them.

Beautifully crafted to an art form, these personalized commemorative plates make excellent gifts for any church anniversary, school reunion, or family reunion. These commemorative plates will help keep the memories of the day alive and fresh in their minds. They are keepsakes that will last forever. Give them something to remember the day by. Give them printed commemorative plates.