The tote bag is perhaps the most versatile accessory of the modern world, and there seems to be no end to what the humble tote bag can offer us.
Tote bags are not only Eco-friendly and durable – they also come in a whole range of different colors, sizes and designs to suit every style. People buy tote bags for many different reasons: they can be filled with gifts and given as a present, handed out as wedding favors, given as freebies at promotional events, or used by students, teachers and workers to carry necessary supplies.
Whether you're looking for a personalized grocery bag, a place to stash your tablet device or a collection of printed totes for a promotional event, rest assured that we're here to help you design the perfect bag for your needs.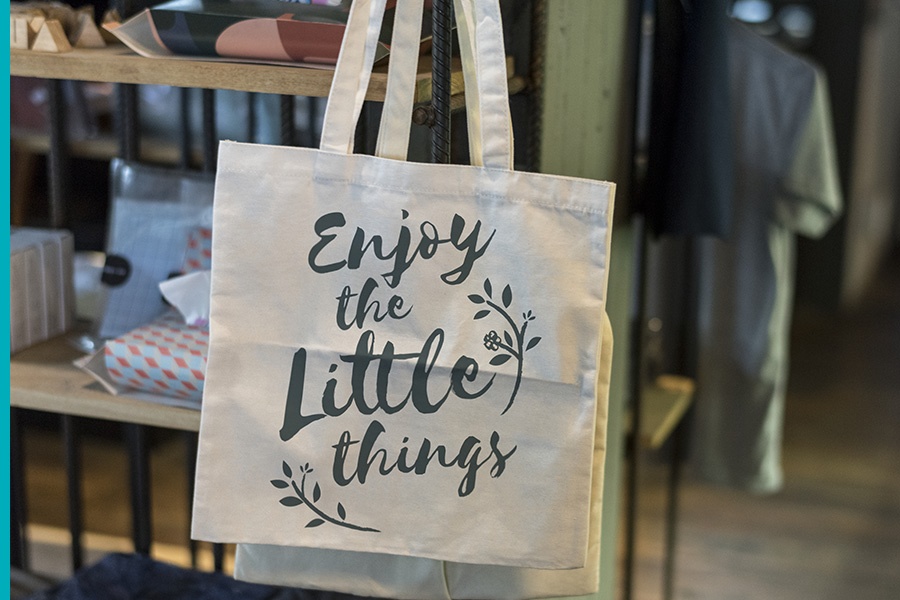 Choose Your Tote

Personalized tote bags are a great way to promote events, market a business or simply show off your unique style. Made with long-lasting quality materials, our totes can be printed with any logo, design or slogan to help you get your message across. First things first, let's start by helping you choose your bag style, fabric and color so you can get customizing.
Materials and Fabrics
Here is a quick background on some of the materials we use to help you make the right choice. Click here to see which of our custom bags are fully recyclable.
• Canvas/Cotton: Cotton and canvas are two of the most called-upon fabrics for tote bags. These bags are designed to last, comprised of organic materials that can easily be washed. They are perfect for daily, heavy-duty use.
• Jute: Made out of natural vegetable fibers, jute is one of the most eco-friendly materials out there. The unique fabric is both extremely durable and attractive in appearance, making it a top-seller in our online store. These bags are designed for daily use and are fully biodegradable.
• Non-Woven Polypropylene: One of the least expensive, most durable materials, polypropylene is often used for promotional bags. It is made partly from recycled plastic and can be used multiple times.
• PVC: PVC (Polyvinyl chloride) is one of the most used plastics in the world. Often used in construction, it is a strong but lightweight plastic that gives bags a softness and flexibility. Our clear PVC bags are perfect for sporting events, marketing promotions and other wholesale orders.
Function

Before you choose the style of your tote bag, you need to decide on its primary function. For example, if you're going to be using your tote frequently for shopping or transporting your possessions, then you'll want to choose a bag with pockets, an internal lining and perhaps durable handles to suit consistent use. You will also need to make sure the bag is washable (i.e. made from cotton or canvas).
On the other hand, if your totes are for a promotional event, appearance and affordability will be the most important factors in your decision. Let's look at some of our different tote styles and the functions they serve.
Style

We offer several different style tote bags, many of which are made from recyclable materials. Our bags come in a variety of sizes, some with reinforced handles, inner or outer pockets and different closure options. Whether you're looking for a slick, promotional bag or a trendy canvas tote, we're sure to have the right product for you.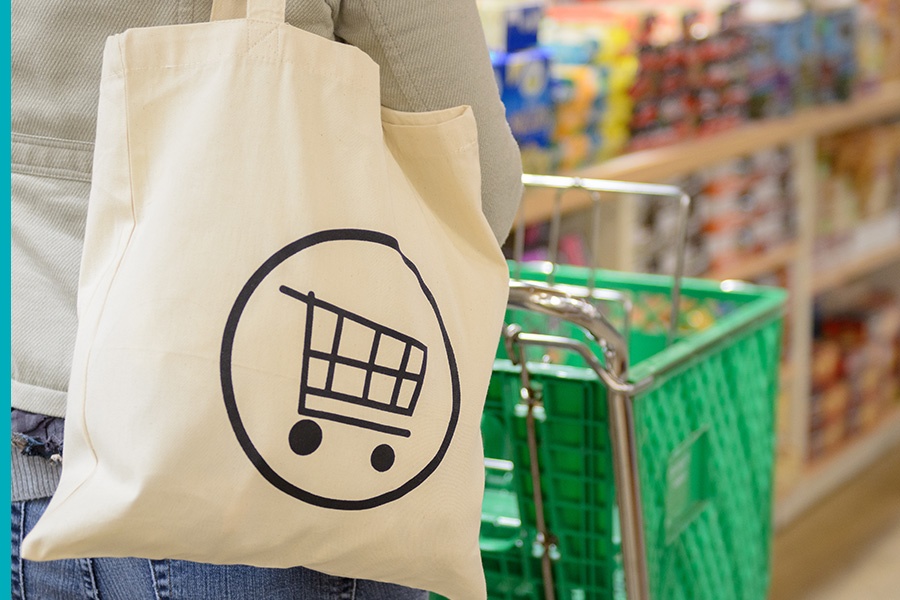 Here are some of our most popular styles we offer, as well as the high-quality fabrics they are made from:
Non-Woven Bags

Here at Discount Mugs, we offer the largest selection of non-woven tote bags on the web. You can save money with our value prices, take advantage of free shipping and find bags in various sizes and styles. If you're looking to ditch the plastic bag, whether at work or in your personal life, our non-woven bags are the perfect alternative to the classic carrier bag. Our wholesale non-woven tote bags can be printed with any design or message in a range of colors. Here are some of the styles we offer:
• Reusable grocery bags.
• Budget shopper totes.
• Insulated tote bags.
•Foldable polyester tote bags.
• Tote coolers.
• Exhibition tote bags.
• Small handy tote bags.
• Zippered tote bags.
• Laminated tote bags.
• Gradient laminated bags.
• Wine bottle bags.
We can also provide non-woven insulated bags for food transportation, laptop bags, lunch bags, traditional backpacks and more.
Canvas and Cotton Tote Bags

Our cotton and canvas bags are sturdy and durable enough to serve your everyday needs, whether you're walking back from the grocery store or carrying books to and from the library. Reliable and Eco-forward, these bags are also easy to clean and are lightweight enough to be carried around with ease. Here are the following styles we offer.
• Cotton grocery bags.
• Beach bags with button fastenings.
• Canvas pocket totes.
• Zippered totes.
• All-purpose totes.
• Meeting tote bags.
• Denim tote bags.
• Patterned totes.
• Shoulder tote bags.
Jute Bags

Our vast selection of jute tote bags offers many different options when it comes to price, closure, color, and size. Whether you're looking to show off your individual style or promote your brand or business, our recyclable jute bags will make a lasting impression. You can choose from black, navy blue, brown, green, maroon, purple, red, white, and green bags, then customize them with your own logo or design.
Our jute totes also come in material blends that include cotton, polyester and polypropylene, making them easy to wash and care for. They are highly durable, which means they can be used for grocery shopping, going to the beach and traveling. You can also take advantage of our Guaranteed Low Prices for orders of any size. Here are some of the jute tote bag styles we offer.
• Cotton pocket jute bags.
• Rope handle jute bags.
• Two-tone beach jute bags.
• Jute carry-on bags.
• Button and loop jute bags.
• Mini jute tote bags.
• Basket jute bags.
We also provide super jute tote bags, gift bags, wine bags and more.
Clear Tote Bags

Our strong and durable clear totes are perfect for wholesale orders, and can be personalized with any logo, image or design. Ideal for sporting events, corporate giveaways and promotional events, these bags adhere to public safety measures and meet NFL security guidelines and regulations, meaning they are sure to be approved at your local stadium or corporate event. 
Our clear bags can be custom printed with your logo, brand name, image or design, or you can choose from our many free clipart designs. Here are some of the different styles on offer.
• Color handle clear plastic totes.
• Utility beach totes.
• Vanity bags.
• Security tote bags.
• Mesh shopper bags.
•Outdoor cooler bags.
• Stadium bags.
• PVC clear tote bags.
• Rope handle frosted plastic gift bags.
Don't hesitate to get in touch should you have any questions about our clear tote bags and whether they'll be accepted at your event. 
Tote Size

Here at Discount Mugs, our tote bags come in a variety of different sizes to meet your individual or business needs. Whether you're looking for a small tote to wear on your shoulder or a super shopper to hold all your groceries, we've got you covered. You can find exact product specs by browsing our Tote Bags page and clicking on the tote you're interested in.
Rest assured that all our sports and promotional bags meet new NFL sizing guidelines.
Designing Your Tote Bags

Once you have chosen the fabric, style and size of your tote, it's time to get customizing. Whether your bag is for home or corporate use, you can put your own stamp on your tote with one of our many customization options.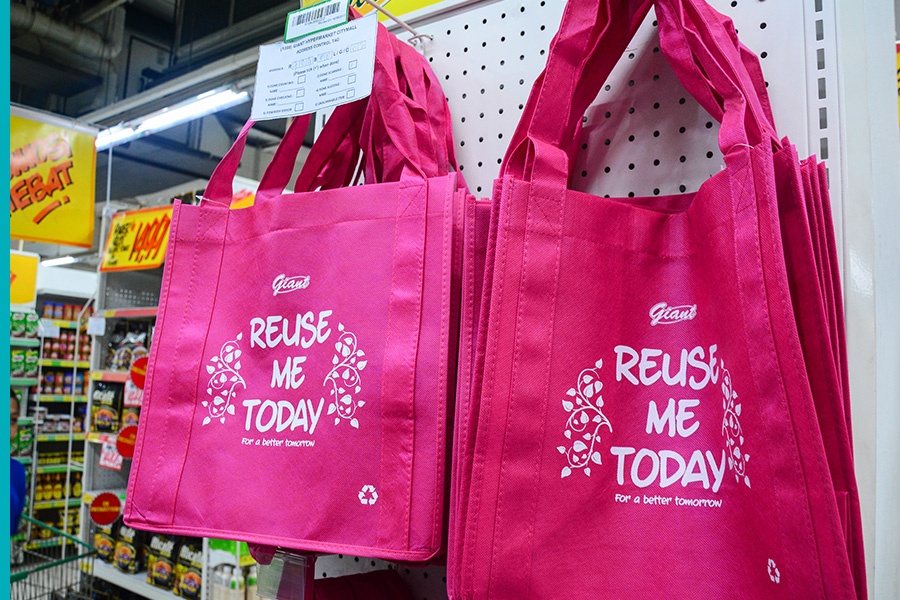 Submitting and Image or Logo

If you have a logo or design you'd like to appear on your tote, you can submit your artwork to us directly. Please note that we prefer Illustrator files (.eps, ai, pdf), Photoshop files (.psd in 300 resolution) or high-quality Jpegs. Please ensure that your artwork is vectorized and that fonts are flattened for best printing quality. We're committed to proving the best possible end result, so to avoid any irregularities with your artwork, please name all the fonts used.
If you have any questions about submitting your artwork, please get in touch.
Don't have artwork of your own? No problem. We have a large assortment of pre-designed clipart images you can choose from, including icons, funny images, logos and more. See our clipart gallery for more information.
Choosing Colors and Fonts

Our bags come in a range of colors, from black to gold and everything in between. When you design your personalized tote, you'll have complete control over how you want your finished design to look, but we do know it can be difficult to know which colors to choose, which is why we've compiled a standard imprint colors chart to help you decide.
If you have text in your design, you will also need to choose a font. However, if you don't have a font of your own to upload, you can choose from our selection of in-house fonts.
Imprint Methods

Here at Discount Mugs, we use state-of-the-art printing equipment to give each and every one of our products a professional finish. Our range of printing options and easy-to-use online tools make customization simple, helping you to achieve the perfect look for your tote bag. Here are some of the imprint methods we use for our customized totes.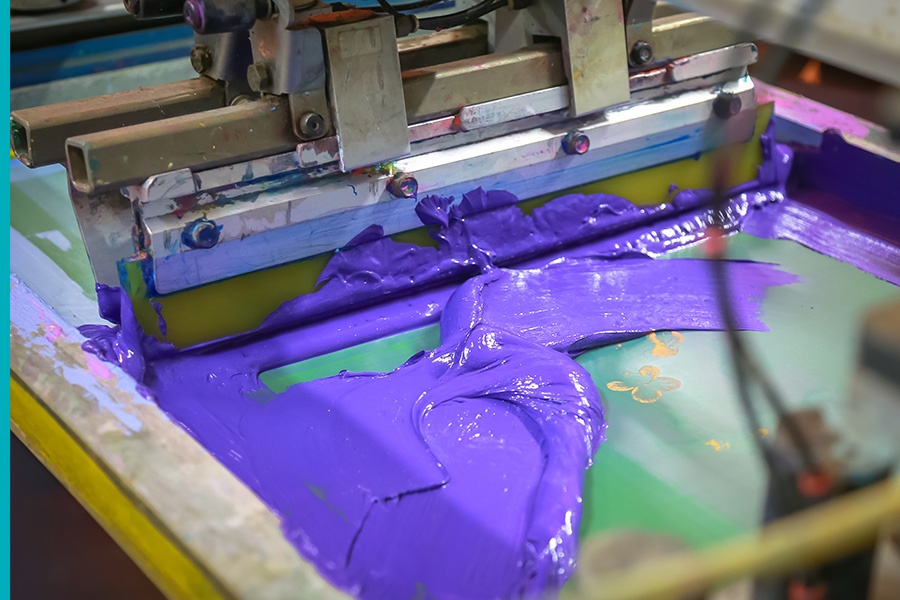 • Screen Printing: This technique is best for bags with large designs that require one or two solid colors. It is a cost-effective method for large batch orders on plastic or fabric totes.
• Digital UV Printing: UV printing is mainly used on plastic to create high-quality images, logos and text. This method offers a lower production time and a professional result, but it is not compatible with fabric tote bags. 
• Embroidery: Our embroidery service is ideal for corporate logos and other simple designs and allows for up to 16 different thread colors, adding an air of professionalism.
• Digital Direct to Garment (DTG): DTG printing is similar to printing on paper, in that it allows for unlimited colors and fine detailing, allowing us to print photographs and detailed designs onto fabric. This method is best for single tote bags and small batch orders.
• Heat Transfers: The heat transfer method is one of the most cost-effective techniques, and it's perfect for simple designs with two or three colors. Our heat transfers won't crack, peel or fade, and they are extremely durable for long-term use.
• Sublimation: With sublimation, you're not limited to one or two design areas – you can print detailed designs all over your bag if you want to. There are extensive color options and maximum detail, but you are limited to options in terms of material. Typically, only polyester materials can be sublimated, and fabric needs to be light in color for the process to work.
• Debossing: This is when an image, logo or text is imprinted onto an item, creating a depressed effect. You can either leave the debossed area untouched or fill it in with your desired ink color. This method is perfect for leather, faux leather and other synthetic materials.
Click here to see our printing methods in action.
Why Discount Mugs?

Discount Mugs has over 20 years of experience in the business, and it shows. We are one of the largest promotional product suppliers in the U.S, completing high-quality orders for both individuals and large-scale organizations every single day. Each one of our customized items is made in-house by our dedicated team of designers and production experts, then shipped to your front door.
Put simply, we are one of the only suppliers who deliver professional, high-spec results without the luxury price tag. Don't take our word for it though; why not see what our customers are saying? We think you'll be impressed by what they've got to say about us.